I never miss Saturday mornings with TV's Earth Odyssey. My prep is crucial: 1) cushions fluffed, 2) piping hot French roast, and 3) my laptop. Laptop? Yep, now guns are loaded.
Animal TV shows are nothing new, but this show clutches me to my laptop like a homebody to a soap opera. Earth Odyssey not only feeds my enchantment of wild animals, but the narratives trigger a writing frenzy. (Forgive the parting subject matter — but it relates.)
 You're in for a wild showcase
Though different from the hands-on format of famed Jack Hanna's Into The Wild series, (bless his beautiful heart and work) the visuals are equally stunning.
Earth Odyssey locks me into expressive wildlife in its vast native landscapes.
 What you will discover
Plan to be amazed to encounter animal species you've never seen before. From tiny critters to the hugest jungle inhabitants, host Dylan Dreyer guides us on exhilarating adventures across the world.
Each weekend I'm at a new jungle convention packed full of experts in survival that teach and entertain. But wildlife aren't the only experts. Other masters are the show's writers and editors.
Earth Odyssey is tight in its delivery of words. I love it.
 Simplicity in education nails it
Writers are always in learning mode. Am I right? For me, EO's simplicity is key. If you teach with verbosity and complexity you lose me.
For kids, interest is unbroken. The smooth narratives strike like a poem without rhyme (in my opinion.)
 What might impact your kids and grandkids?
Lots. The animal encounters are fascinating in their singular and pack behaviors. EO's presentation exposes the incredible rituals of other beings in their animal kingdom.
The verbal outline is short, sweet, and sensitive. It demands attention. Kids and tweens will be removed from their frequent tunnel of all-about-me-every-day.
Our predictable environment is hot, warm, cold, rain, and snow. As kids watch an EO episode, they see a day of blazing heat while the night quickly turns frigid. Now what?
We learn how these beautiful beings prepare for challenges.
They adapt.
EO presents a species' routine intelligence, one shot after another. The next scene  —  a parade of the opposing species on the hunt. Actors at the time of action. (Oooh, I slammed that line in? It just came to me.)
Today was a cool show with a short bird segment. I'm not really into birds but…
This was not a typical bird's nest for mama and 3 eggs. Instead, rare nests were highlighted which are home to hundreds of birds together nestled like the caves of a mountain. It was a flying ballet — in and out, soar and dive. Supplies, food, check on babies, and whatever else birds do.
Enter, diversity, and patience.
 Back to writing, almost
We all have appetites for gifted shows or reads that beget intimacy, relativity, or intrigue.
Animal lovers reap the lessons of bonding and devotion from the rule of global life in the elements, to the odd exceptions. Such is life. These exceptions — or curveballs — explode my writing ideations. Creativity detonates. Explain this? Sorry, I can't.
In another way, these curveballs enlighten children with a medley of hidden lessons of independence, awareness, and fluctuation. Again, such is life.
Dear parents, there is delight, without gore.
 What can wildlife teach us?
Earth Odyssey is a ride on the value train. But let kids think it's the fun train.
The young can absorb remarkable lessons about how animals thrive in the wild. Like, when to take flight, when to dive deep, or when to fight. How little critters to jungle beasts dance through behaviors whether in waves of conflict, affection, or relaxation. 
Kids relate.
Does my perspective spawn a new message? No. But today, it's a learning pathway that seems lost. If this model teaches empathy and camaraderie that sticks, let's bring it back.
There is nothing new about relating others' situations with our own. It's a precious tool. Let's pause and bring that back too.
There is nothing new about fun with learning either. Let's demand more of it.
The EO footage is priceless and timely in observations. The wildlife embraces their boundless hours of grazing, playing, and napping. But those hours remain full of foresight. Ready for the unexpected. No doors to lock behind them. The viewer honors their awareness of the natural surroundings. Their home. Their every day.
 Awareness deepens 
Awareness is the root trait required in every noun I use here. Awareness provides us intelligence in what to do, what to say, how to improve, how to give, or where to go. It helps us separate the positive from the negative. Awareness shapes us.
 We're never too old for animal shows
Feel the joy this show offers with your kids and grandkids. Enjoy the beauty and color of the wild, while learning. Children discover affection and respect for animals through their unique behaviors.
Animals of the wild instill the bond of family. They remain cogent and proportional in their pivot to independence, pride, and sometimes humility. All on a dime.
Whether we see with the eyes of a child or not, learning is growth.
 Back to writing
The crisp content jets me to my laptop. I take notes and build ideas like crazy. EO is a tool in my shack that works. Something about animal behaviors and human comparison fires up my writing. Whether similar or estranged, who cares? My butt is glued, nails chipping.
I have a couple of other TV lures that break open my writer waterfall.
And you? Is there a show that flips your hotcakes? Just curious.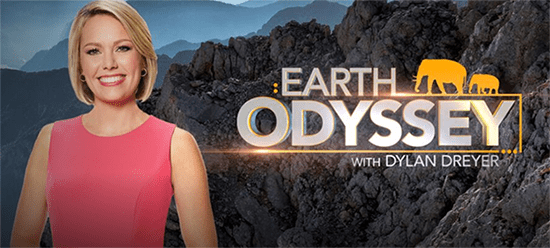 Dylan Dreyer, the Today Show's meteorologist, is a winner as host and narrator of Earth Odyssey which is part of NBC's The More You Know campaign. To indulge, here is the direct link. EO also streams. https://www.nbc.com/earth-odyssey-with-dylan-dreyer
Thanks for reading, I'm off for now.

Gwenn Jones, CPT — Content writer in Wellness-Lifestyle-Fitness, Gwenn is a 25-year ACE-certified personal fitness trainer, yoga studio owner, instructor and fitness consultant. Grateful to be a native Californian where happily home-based.